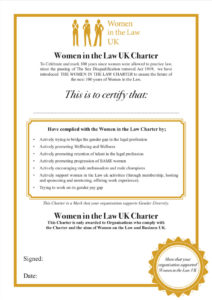 * NEW *
To mark 100 years since women were allowed to practice law, we have introduced:
THE WOMEN IN THE LAW CHARTER.

We have introduced a Charter to be awarded to Chambers, organisations, Firms. This marks the next 100 years of women in the Law.
This charter is awarded to Organisations who are and can demonstrate that they are;
-actively trying to bridge the gender gap in the legal profession
-actively promoting Wellbeing
-actively promoting retention of talent in the legal profession
– actively promoting progression of BAME women
– actively support women in the Law uk activities( by being a member, hosting and sponsoring mentoring, offering work experience).
Sign up and Apply for a Charter. Show what your organisation is doing.
Fees applicable to organisations with employees .
Universities have to meet criteria to have a charter.